A High-Efficiency Win-Win: Recurring Revenue for Distributors and Code Compliance for Contractors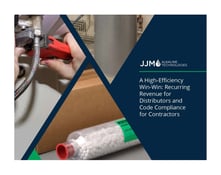 If you work with or distribute condensing heating appliances, you need to read this free white paper!
Although high-efficiency appliances are a game-changer to effectively bring heat to our homes and buildings, they come with one small, yet concerning, side effect: acidic condensate. If left untreated, it can cause damage to a building's infrastructure, local sewage systems, and the environment. However, the industry has found an easy solution that can be implemented with the installation of high-efficiency appliances.
Overview
What is Acidic Condensate?
The Damage Acidic Condensate Causes
A Simple Solution to Treat Acidic Condensate
Condensate Neutralizers